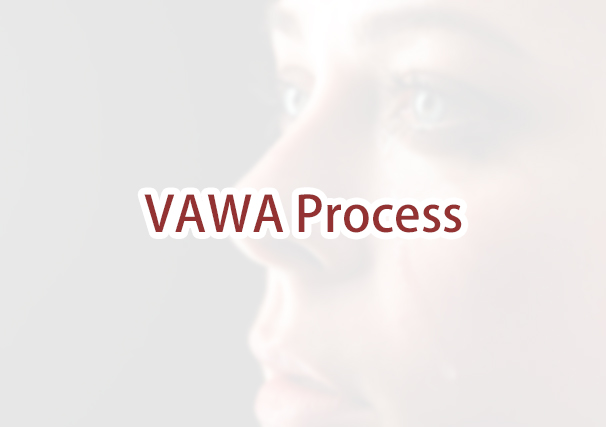 Question: What is the process for applying for VAWA in the U.S.?
Answer: The Violence Against Women Act ("VAWA") allows a noncitizen who has been abused by a family member to file a petition to adjust status without the knowledge of the abusive family member. The process for applying for VAWA for a person who currently resides in the U.S. consists of several steps.
Step 1. Confirm Your Eligibility
Before you file anything with the U.S. Citizenship and Immigration Services ("USCIS"), the first step is to make sure you qualify to apply for a green card through VAWA. Under VAWA, you may be eligible to obtain lawful permanent resident status (a green card) if you are the victim of battery or extreme cruelty committed by:
A spouse who is a U.S. citizen or lawful permanent resident (green card holder),
A former spouse who is a U.S. citizen or green card holder if the marriage ended within the past 2 years,
A parent who is a U.S. citizen or green card holder, or
A child who is a U.S. citizen over the age of 21.
"Battery" or "extreme cruelty" under VAWA covers most forms of domestic abuse, including physical abuse as well as economic and psychological abuse, as well as threats to have you deported if you report the abuse to the authorities.
Step 2. Prepare and Submit Your Application Materials
If you have been abused by one of the family members listed above, then the next thing you must do is prepare and submit your application materials to USCIS. If you are in the U.S., you might be able to submit Form I-360 and Form I-485 together. For example, if the abuser was your spouse, you may file Form I-360 and Form I-485 at the same time.
When you submit your VAWA green card application, you must include evidence of your relationship to the abuser and evidence of the abuse you suffered. You also must also submit photographs, a government-issued identity document, and a birth certificate.
Step 3. Biometrics
After receiving your application, USCIS will provide you with instructions on when and where you must go to be fingerprinted. USCIS will review your application and conduct a background check. If USCIS discovers any issues during this process, it will mail you ass notice requesting additional information or evidence.
Step 4. Interview
The last step to obtaining a green card is to participate in an interview at a USCIS office. Before the interview, you must participate in an immigration physical. You must take the results of the immigration physical exam to the interview. You must also bring originals of your birth certificate, marriage or divorce certificates, and passport. USCIS will not ask you questions about the abuse that is the subject of your VAWA application. That is why it is very important to provide sufficient written evidence of the abuse you suffered. USCIS will ask you questions about your green card application to confirm whether you are eligible to receive a green card. If USCIS approves your application, you should receive your green card in the mail within one month.
ImmiFree.Law is The Harrison Law Firm P.C.'s online platform to make the family immigration and naturalization process more efficient, accurate, and affordable. Baya Harrison, Esq. is an attorney licensed in New York, Florida, and California. Attorney Harrison has helped numerous individuals and families navigate the U.S. immigration process, specifically family-based petitions and naturalization.