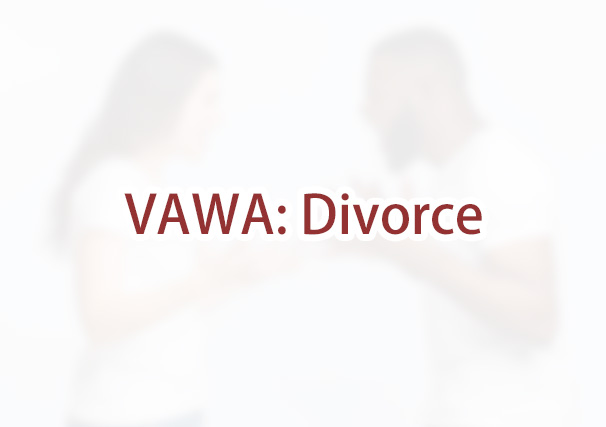 Question: I am married to a U.S. citizen who is abusing me. I want to divorce my spouse, but I am afraid that it will anger my spouse. I am also afraid that if I remain married when I file for VAWA, USCIS will think I am not suffering abuse. How does my marital status affect my VAWA petition?
Answer: You can apply for a green card through VAWA even if you have not divorced from your abusive spouse. Often, the non-immigrant spouse cannot leave or divorce the abuser because of limited financial resources and threats to their safety from the abuser. USCIS does not penalize an abused spouse for remaining in the household with their abuser. When you submit your VAWA petition, you should write a personal statement that explains the abuse you suffered and why you have not divorced from your abusive spouse.
Regardless of your marital status at the filling of your VAWA self-petition, you must still prove the elements of a VAWA self-petition. To demonstrate a viable VAWA claim, you must produce evidence to prove the following:
Evidence of the abuser's status as either a U.S. citizen or LPR;
Evidence of your bona fide marriage with the abuser;
Evidence demonstrating a shared residence;
Evidence of abuse. If no police record exists, the instances of abuse can be described in a personal declaration;
Affidavit of good moral character and a criminal background check.
If you and your abusive spouse are no longer married, you can still file a VAWA petition in the following situations:
You may file for VAWA within two years following any final divorce decree. The actual grounds of divorce do not need to explicitly state battery or extreme cruelty.
You may file for VAWA if you believed at the time of your marriage that you were legally married, but the marriage was found to not be legitimate solely because of the bigamy of your abusive spouse.
If your abusive spouse died, the VAWA petition must be filed within two years of your abusive partner's death. This exception is only applicable if your abusive spouse was a U.S. citizen.
Your abusive spouse lost or renounced his or her citizenship or lawful permanent residence due to an incident of domestic violence.
ImmiFree.Law is The Harrison Law Firm P.C.'s online platform to make the family immigration and naturalization process more efficient, accurate, and affordable. Baya Harrison, Esq. is an attorney licensed in New York, Florida, and California. Attorney Harrison has helped numerous individuals and families navigate the U.S. immigration process, specifically family-based petitions and naturalization.