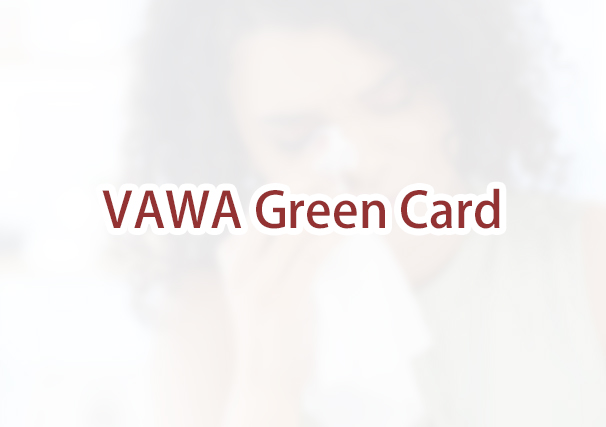 Question: Who can apply for a green card on the basis of domestic abuse?
Answer: You might be eligible to apply for a green card if you were the victim of battery or extreme cruelty committed by one of the following relatives:
A spouse who is a U.S. citizen or lawful permanent resident (green card holder),
A former spouse who is a U.S. citizen or green card holder if the marriage ended within the past 2 years,
A parent who is a U.S. citizen or green card holder, or
A child who is a U.S. citizen over the age of 21.
The Violence Against Women Act (VAWA) Overview
After arriving in the U.S., immigrants often face language barriers, lack of resources, and lack of understanding of U.S. laws. Moreover, immigrants without legal status worry about being deported or losing their opportunity to obtain legal status. As a result, many immigrants are often at an increased risk of domestic violence. All too often, an immigrant's family member may threaten to withdraw an immigration application to intimidate and control her.
The Violence Against Women Act of 1994 (VAWA) permits non-citizens who have been abused by their U.S. citizen or green card holder relatives to apply for a green card without the abuser's consent, knowledge, or participation. This allows victims of domestic violence to seek safety and independence from abusers who would otherwise be able to interfere with their green card application.
Violence Against Women Act Self-Petition
The spouse and children of U.S. citizens and green card holders, as well as the parents of U.S. citizens who are 21 years of age or older, may file a self-petition for a green card with the U.S. Citizenship and Immigration Services (USCIS). To file a self-petition, a petitioner must complete Form I-360 and provide all required evidence. The petitioner may submit this application without the knowledge or consent of the abusive family member. If USCIS approves a self-petition, then the VAWA petitioner may be issued a green card. A petitioner can apply while inside the U.S. (adjustment of status) or outside the U.S. (consular processing).
ImmiFree.Law is The Harrison Law Firm P.C.'s online platform to make the family immigration and naturalization process more efficient, accurate, and affordable. Baya Harrison, Esq. is an attorney licensed in New York, Florida, and California. Attorney Harrison has helped numerous individuals and families navigate the U.S. immigration process, specifically family-based petitions and naturalization.