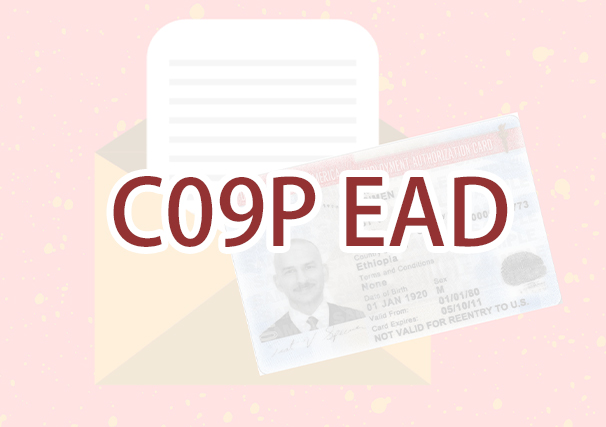 Question: I am applying for a marriage green card in the U.S. About one year ago, I received a C09P Employment Authorization Document (EAD). The C09P EAD expires this month. Will USCIS automatically send me a new C09P EAD?
Answer: No, USCIS will not automatically send you a new C09P EAD. You must apply to renew your C09P EAD. There is no USCIS filing fee to renew your C09P EAD, but it takes USCIS several months to process your application. You can apply to renew your EAD six months before it expires.
What is a C09P EAD?
An immigrant who applies to adjust status in the U.S. can simultaneously apply for an Employment Authorization Document and an advance parole document. U.S. employers are required to verify that all employees, regardless of citizenship or national origin, are legally permitted to work in the country. An EAD is a document that allows you to work legally in the U.S. while you are applying for a green card. An advance parole document allows you to travel outside the U.S. and return while your green card application is being processed.
If you apply for an EAD and an advance parole document at the same time, you will receive a single card that serves as both your EAD and your advance parole document. This card, called a C09P EAD, is colloquially referred to as a "combo card."
How Do I Renew My C09 EAD?
Your C09P EAD is valid for one year from the date of issuance. Most family-based adjustment of status applications are completed before the C09P EAD expires. If your C09P EAD expires before you obtain your green card, however, USCIS will not automatically renew it. Instead, you must complete Form I-765 Application for Employment Authorization and Form I-131 Application for Advance Parole and file them with USCIS to request a renewed C09P EAD. There is no USCIS filing fee to renew a C09P EAD.
How Do I Replace a Lost, Stolen, or Destroyed EAD?
If your C09P combo card is lost, stolen or destroyed, you may request a replacement from USCIS by submitting a new Form I-765 and Form I-131. If you never received an EAD that USCIS mailed to you, you may submit an inquiry on non-delivery of a card to USCIS.
ImmiFree.Law is The Harrison Law Firm P.C.'s online platform to make the family immigration and naturalization process more efficient, accurate, and affordable. Baya Harrison, Esq. is an attorney licensed in New York, Florida, and California. Attorney Harrison has helped numerous individuals and families navigate the U.S. immigration process, specifically family-based petitions and naturalization.